All car manufacturers reuse parts, designs, chassis, wheels, door handles, etc., across different models and brands. In fact, that is the only way large automakers are able to justify the large upfront R&D costs necessary to create a new car. However, as we all know, sometimes car makers get lazy and 2 different models look nearly identical (Ford Crown Vic / Mercury Grand Marquis, for example). Sometimes automakers push the envelope too far, and create a knockoff so irrelevant that consumers have no recollection of it. I wanted to highlight some notable recent examples:
Mitsubishi Raider - forgettable
Dodge Dakota - the mainstay
1. Mitsubishi Raider (2006-2009): As part of Mitsubishi's unfruitful alliance with Chrysler, they rebadged the Dodge Dakota as the Raider. I don't particularly like the last-gen Dakotas anyway, and feel they are a little boxy for their own good. However, the Raider's front end is even more awkward and gaping. Its interior, unfortunately, is taken straight from the Dodge - the worst time in Chrysler's history to borrow an interior... Why did Mitsubishi insist on making a truck anyway? They can barely sell their other models as it is.
Plymouth Breeze - forgettable
Dodge Stratus - n/k/a Avenger, a mainstay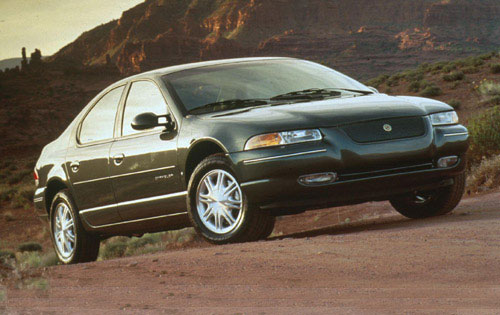 Chrysler Cirrus - n/k/a Sebring then 200, a mainstay
2. Plymouth Breeze (1996-2000): The Breeze is part of the reason why the Plymouth brand went under - no one cared. The Breeze is one of the most uninspired cars ever made - at least the Plymouth Voyager (another notorious knockoff) had name recognition. The Breeze was priced and equipped similarly to the Dodge Stratus - why need 2 models going after the same customer? I believe Plymouth existed because Dodge dealerships were typically standalone, and Chrysler / Plymouth / Jeep were together. Chrysler needed a downmarket brand to corral lower end carbuyers; the only problem was that Chrysler was not (and still isn't) a true luxury brand, and the gap between Plymouth and Chrysler was not large enough. And why did Chrysler execs put the Breeze under the same brand as the Prowler? Makes no sense.
Isuzu i-something or other - forgettable
Isuzu Ascender - forgettable
3. Isuzu i-something-or-other (2006-2008) and Isuzu Ascender (2003-2008): Isuzu was already hurting - somehow after years of memorable "Isuzu Joe" ads, Isuzu's cache gradually disintegrated. (Maybe the Trooper rollovers had something to do with it)? After the cool Vehicross and Axiom failed to revive the brand, Isuzu had a great idea - rebadge 2 of the most overused, bland GM trucks and hope consumers wandered into an Isuzu dealer. Of course the strategy didn't pan out, and Isuzu retreated from the US light truck market. The number of times the GMT360 platform was used is absurd (Chevy, Buick, Oldsmobile, Saab, and GMC). I can't believe the Ascender survived as long as it did!
Meanwhile, the Chevy Colorado / GMC Canyon never received good reviews and have simultaneously fallen prey to soft small truck demand. But Isuzu's light truck division could not justify investing in a new pickup platform and had to resort to an off-the-shelf GM model.
Volkswagen Routan - forgettable
Chrysler Town and Country / Dodge Caravan - the mainstay
4. Volkswagen Routan (2009-present): This minivan is wrong for a number of reasons. VW is known as the creator of the Microbus, quite possibly the only cool minivan ever made. So, I was disappointed when they resorted to a Chrysler knock-off. Putting on commercials with the (beautiful) Brooke Shields is not good enough. It's a shame VW could not bring over the much cooler Touran or Sharan to the US, neither of which are big enough for the modern American family, but stay truer to the VW spirit.
Mazda Tribute - forgettable
Mazda B-something-or-other - forgettable
5. Mazda's pre-CX truck division: Tribute (2001-present), B-Series (1994-2009)
: Last year's news that
Ford is weening itself off of Mazda
could not arrive soon enough. Granted, the partnership has done a bang-up job differentiating the 6/Fusion and 2/Fiesta, but its efforts with the Tribute/Escape and B-series lacked such design finesse. The Escape is a mildly interesting SUV (made cooler by the TV show Dexter), but way overdue of a redesign. The Tribute is an obvious clone and the grille barely makes an attempt to conform to Mazda's design language.
On the other hand, the Ford Ranger, despite being sturdy, practical, and "tried-and-true", it is old, neglected, boring, and completely outdated. The B-Series somehow manages to be even more boring and irrelevant. The small truck has fallen out of style - perhaps the dullness of the B-Series had something to do with it? ;)